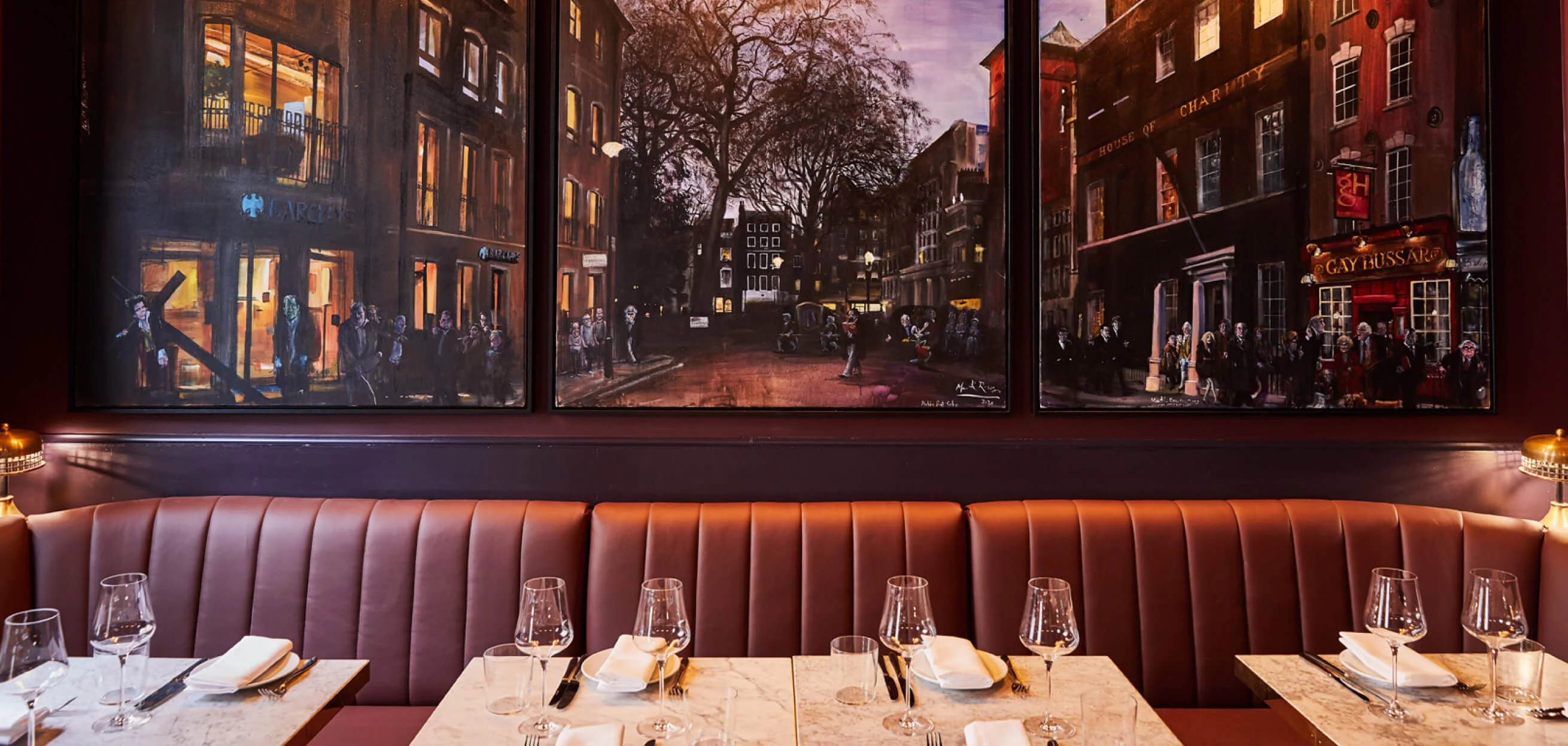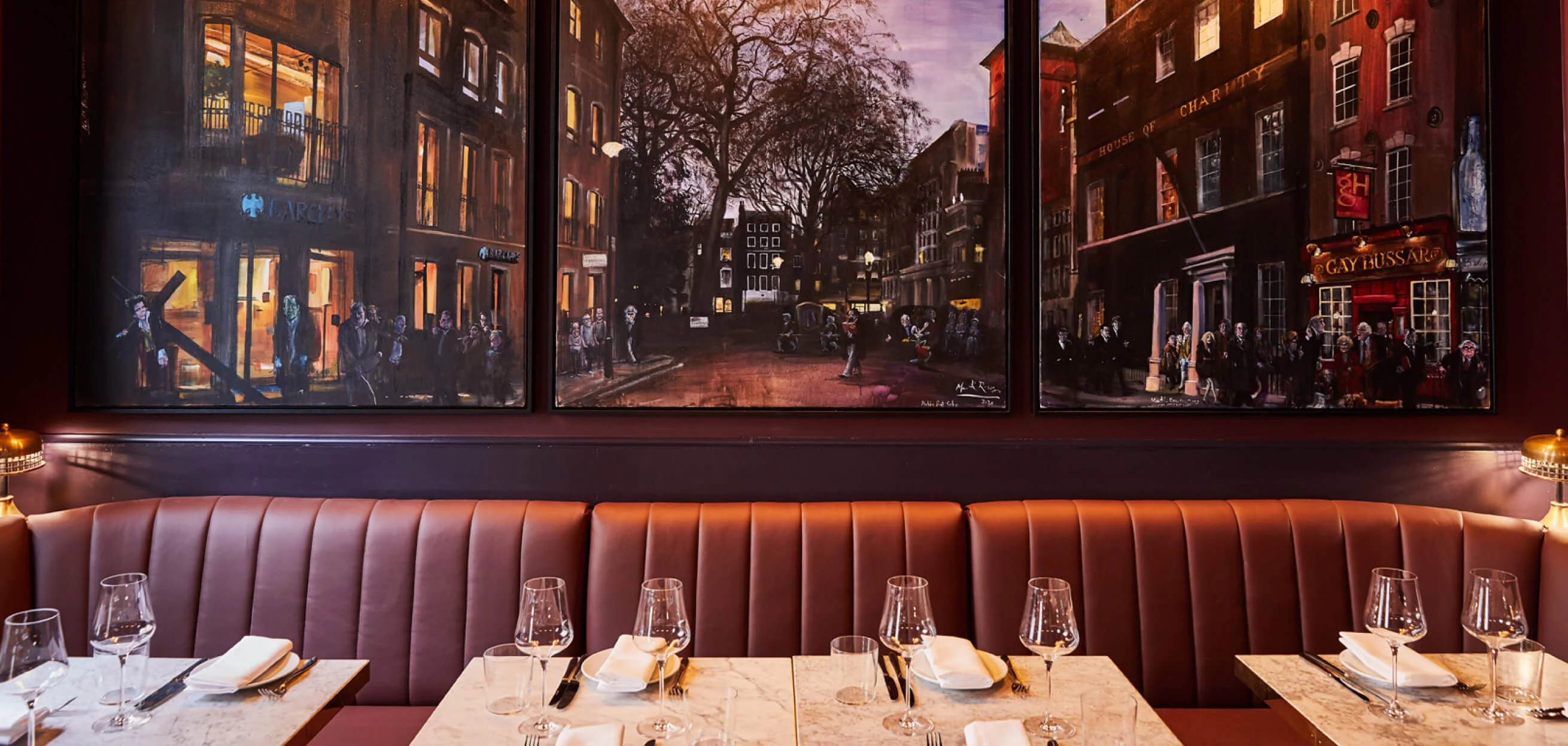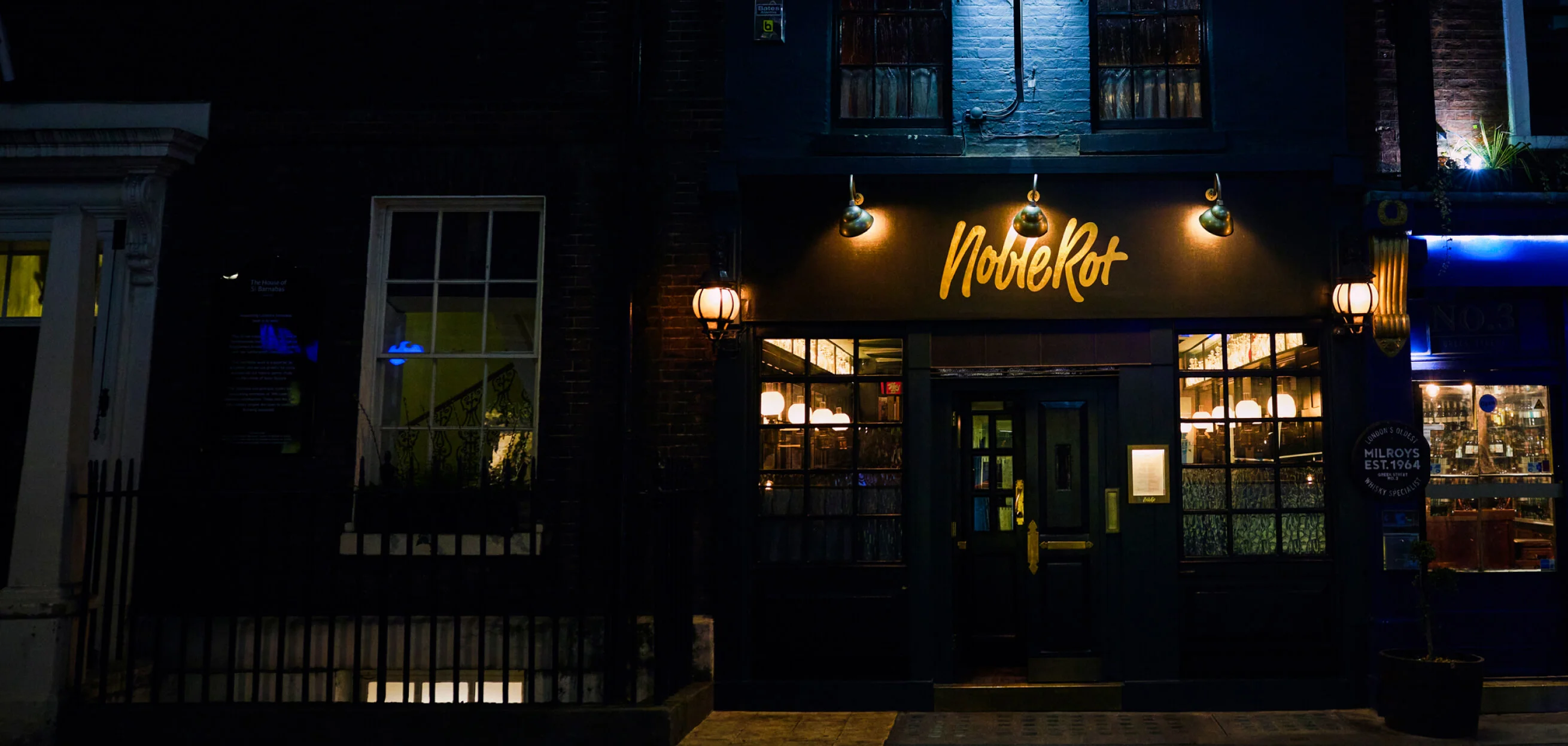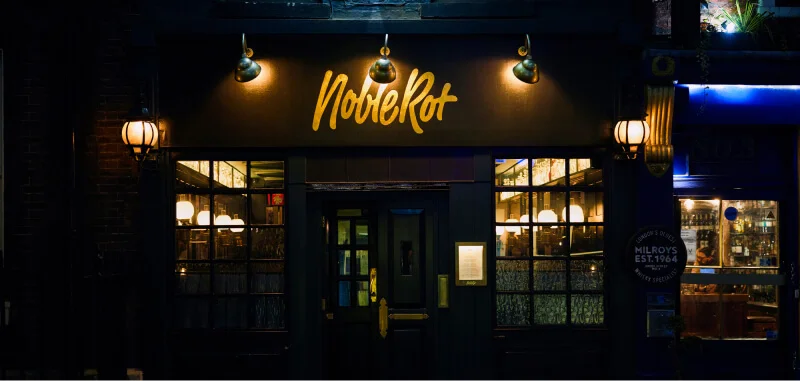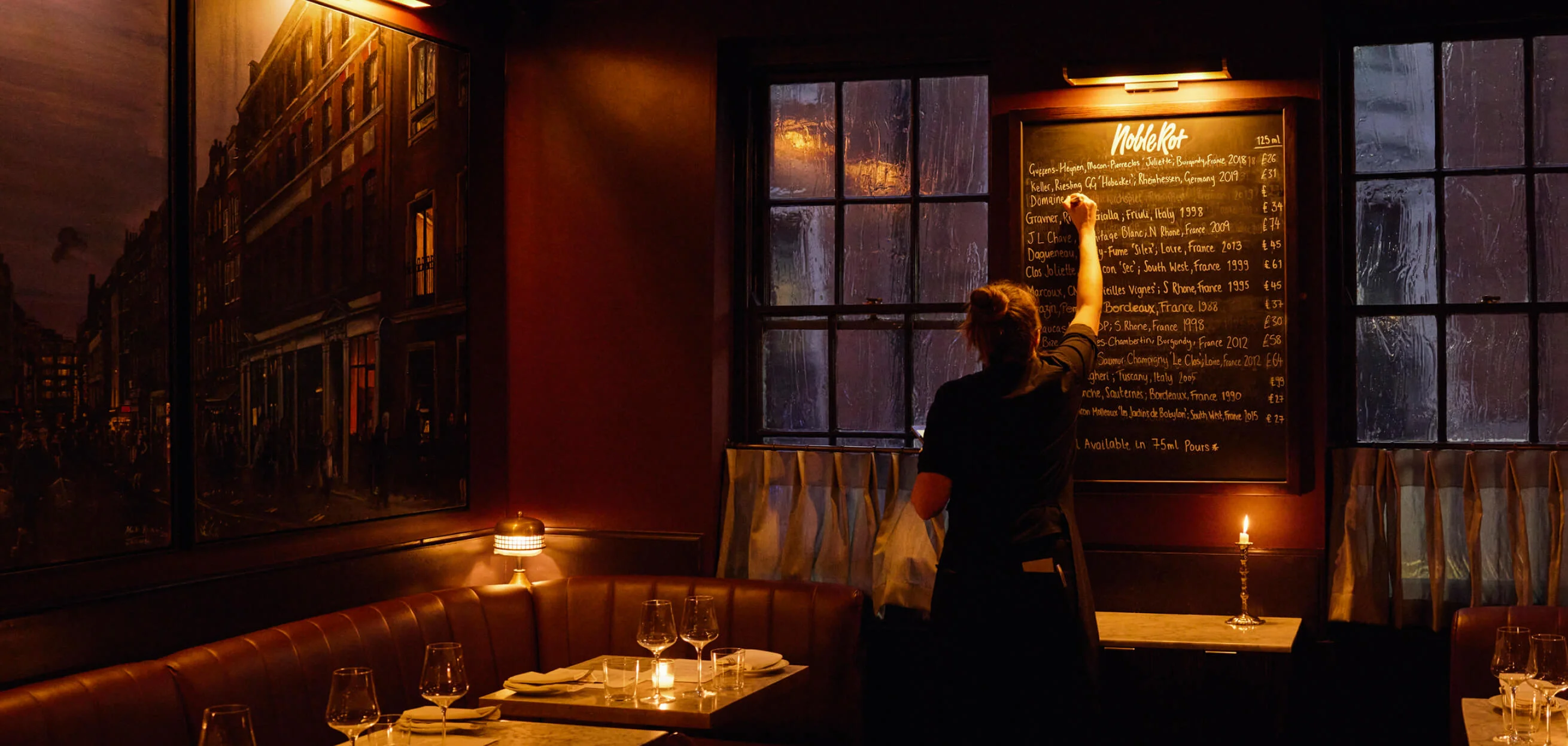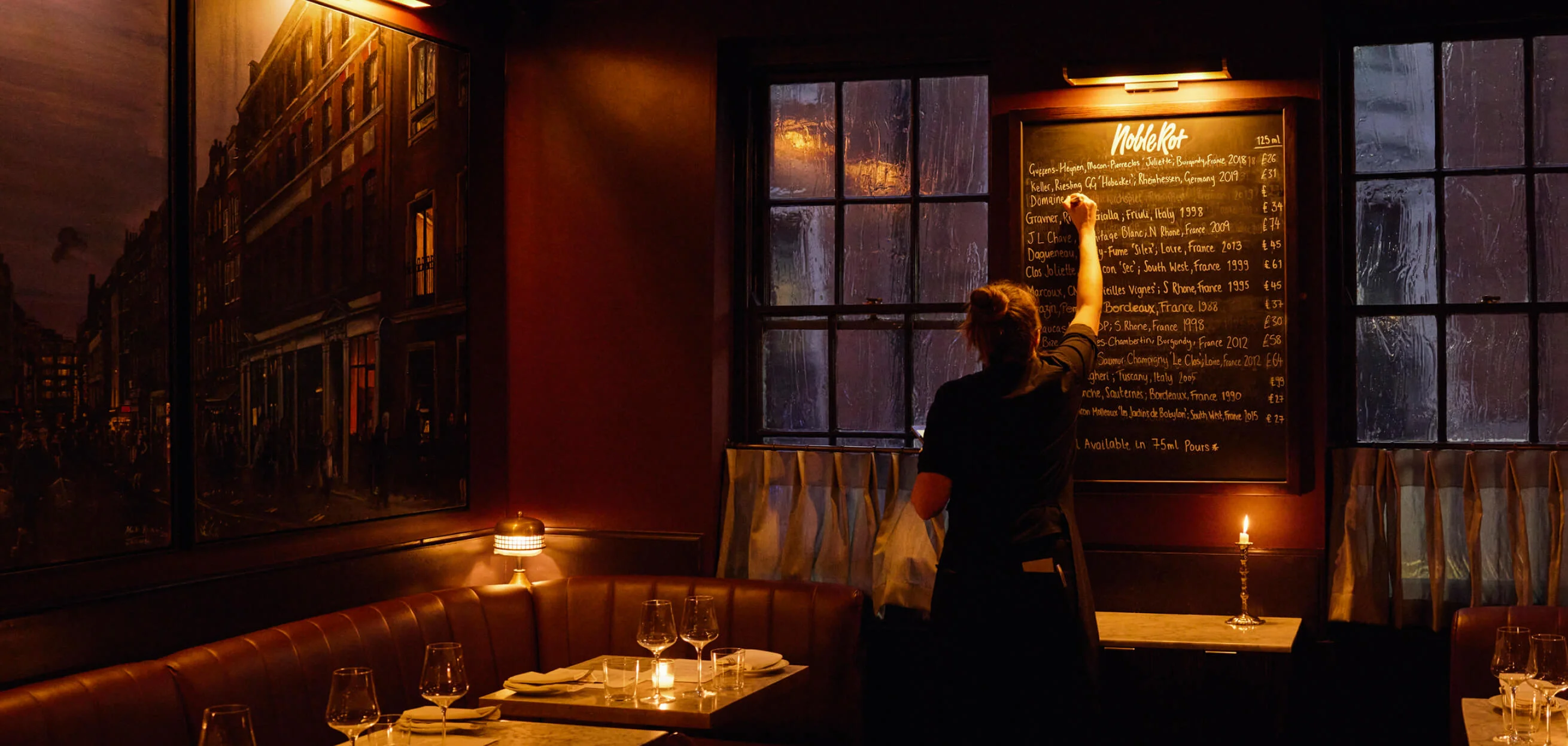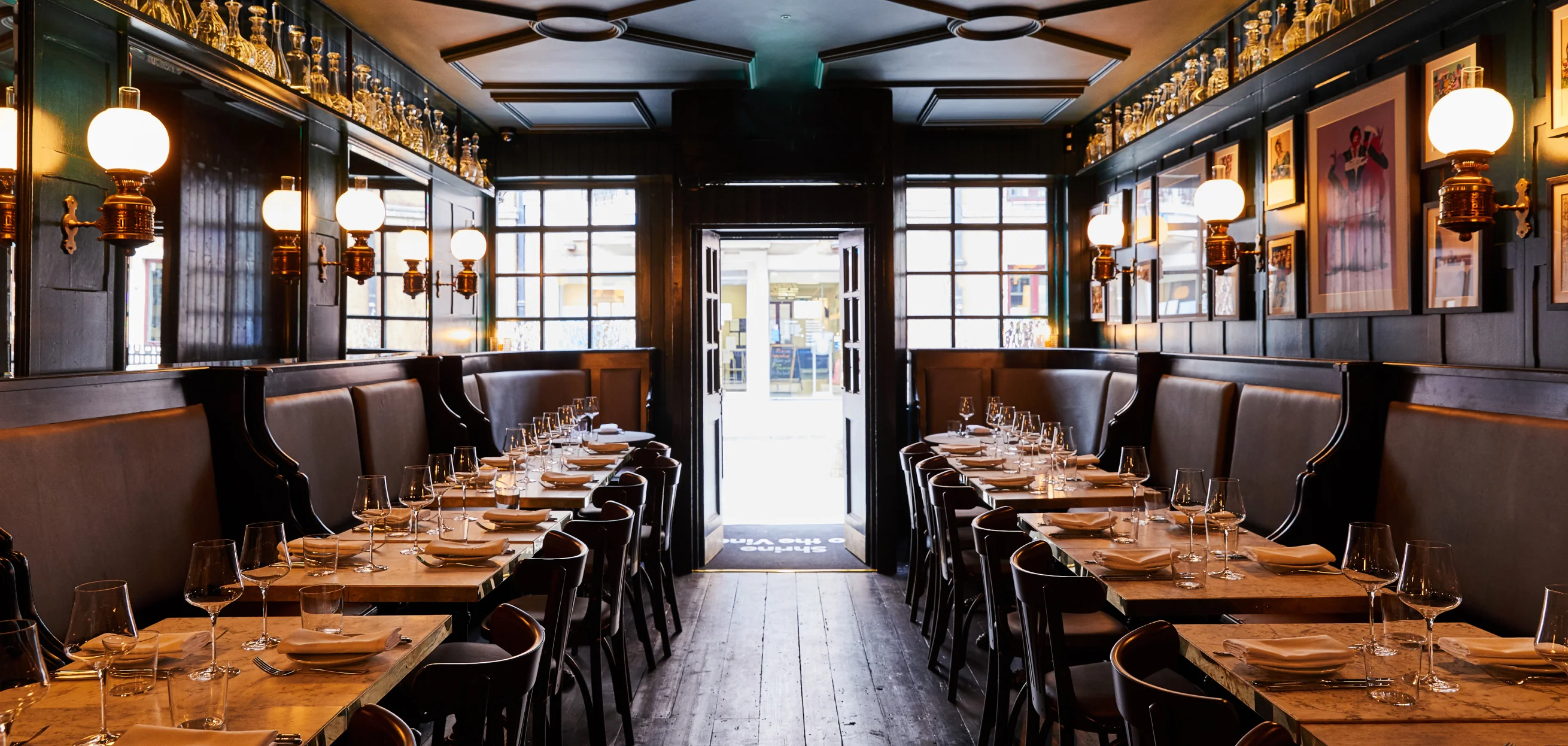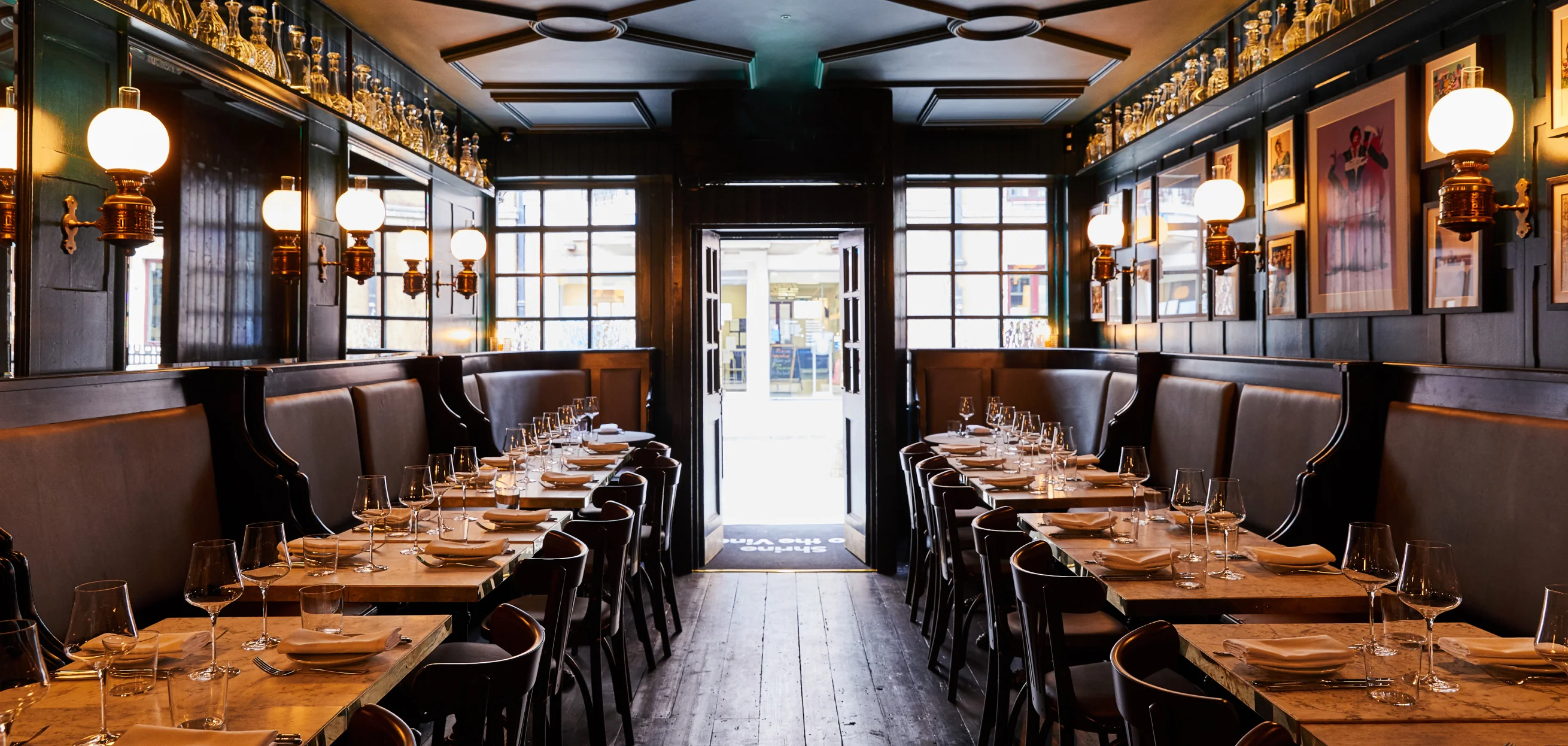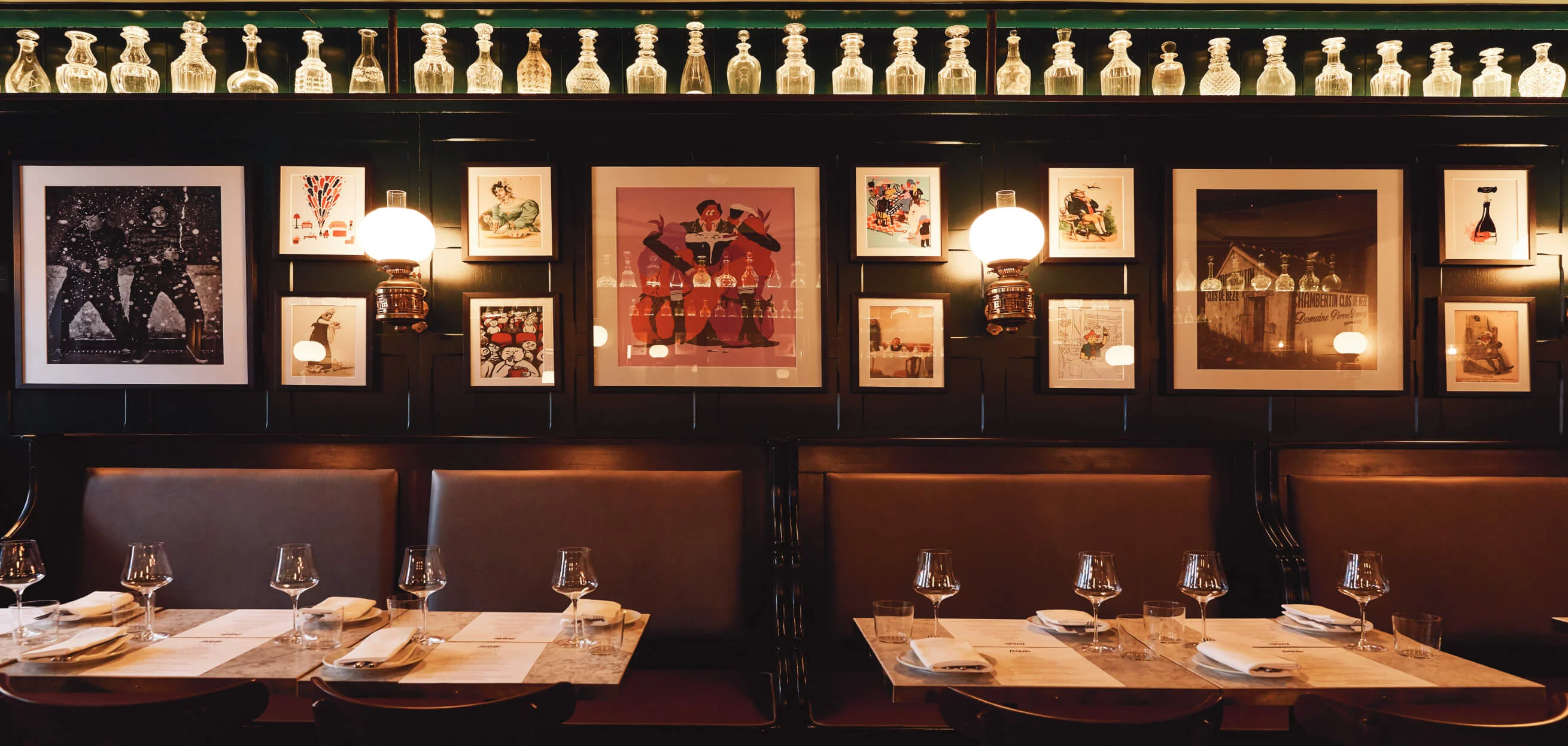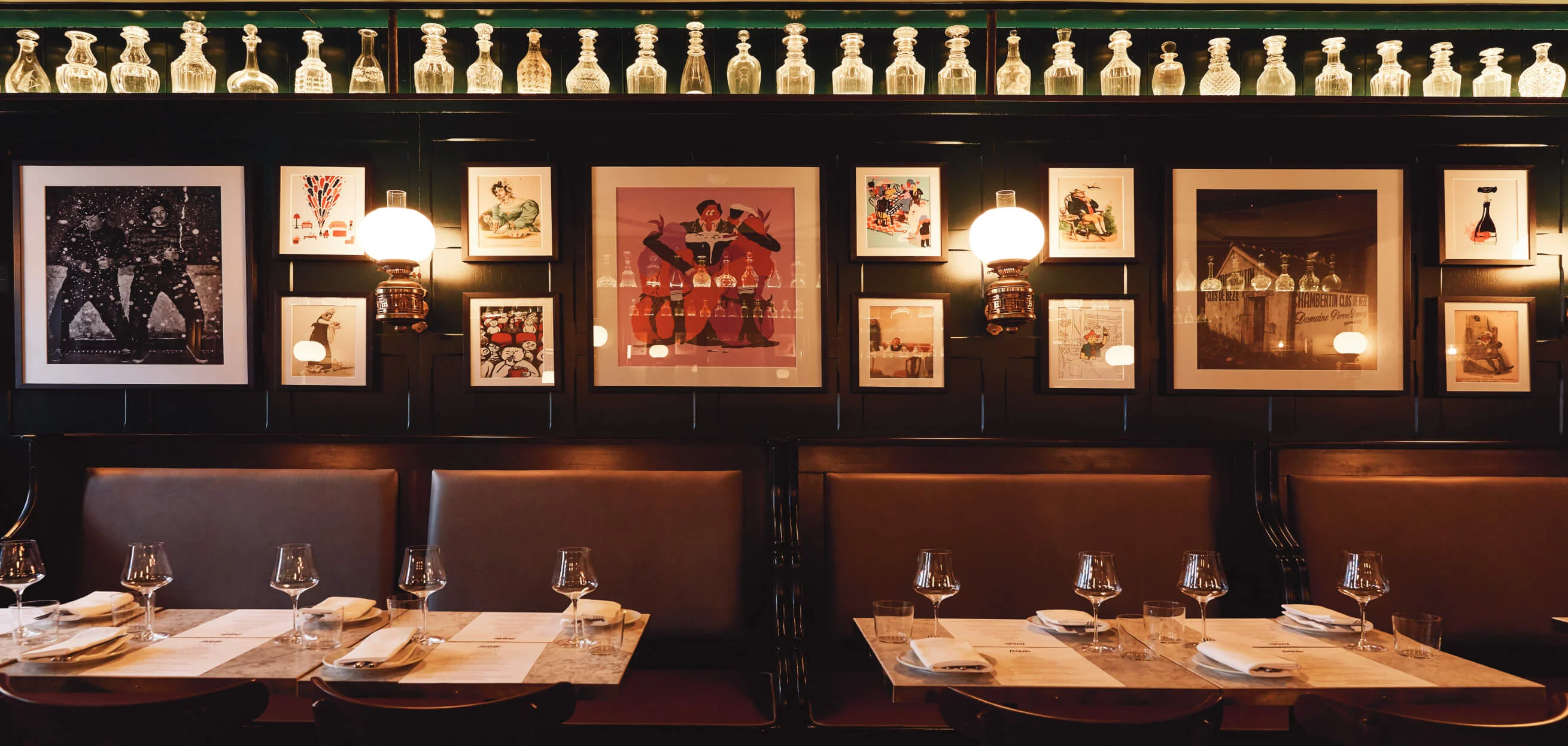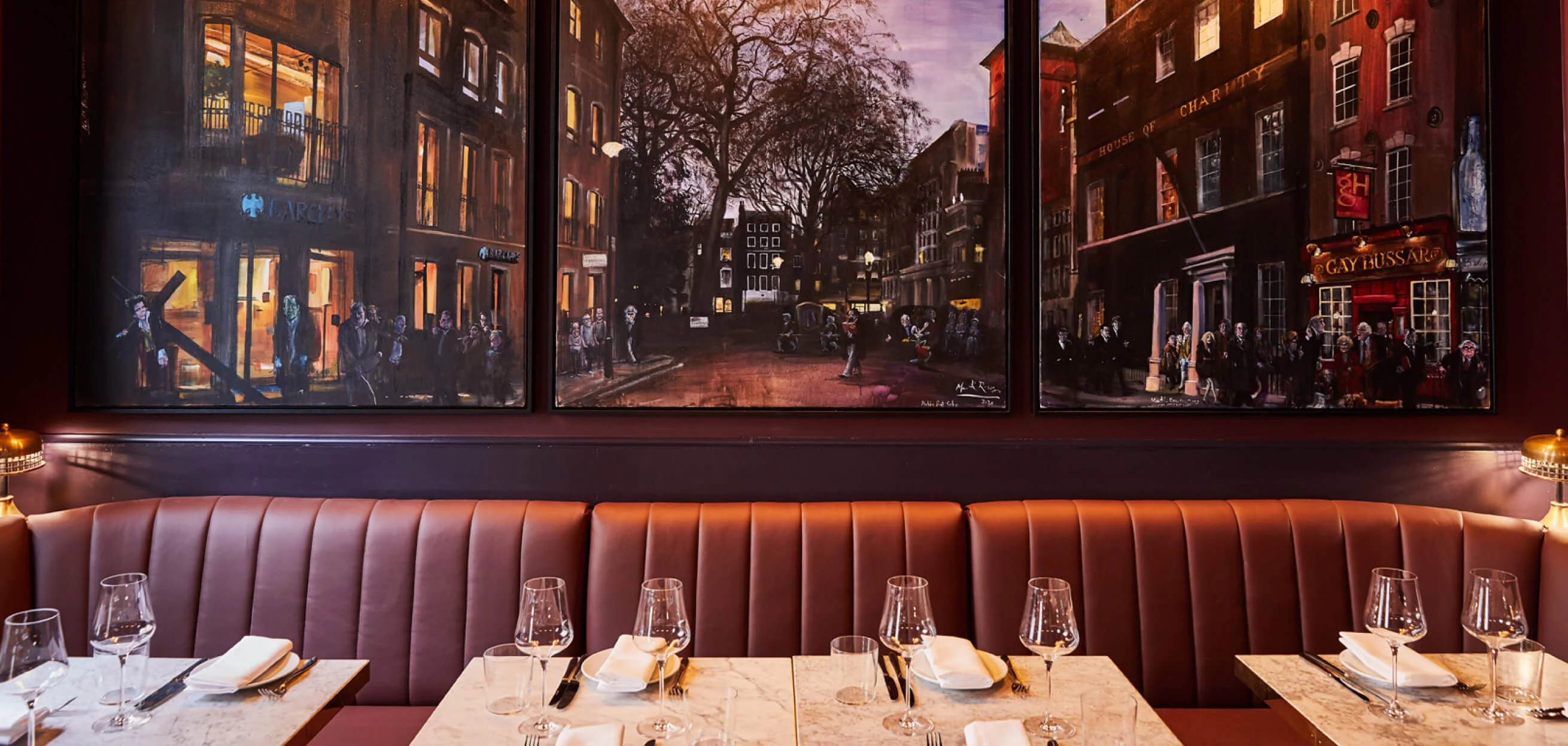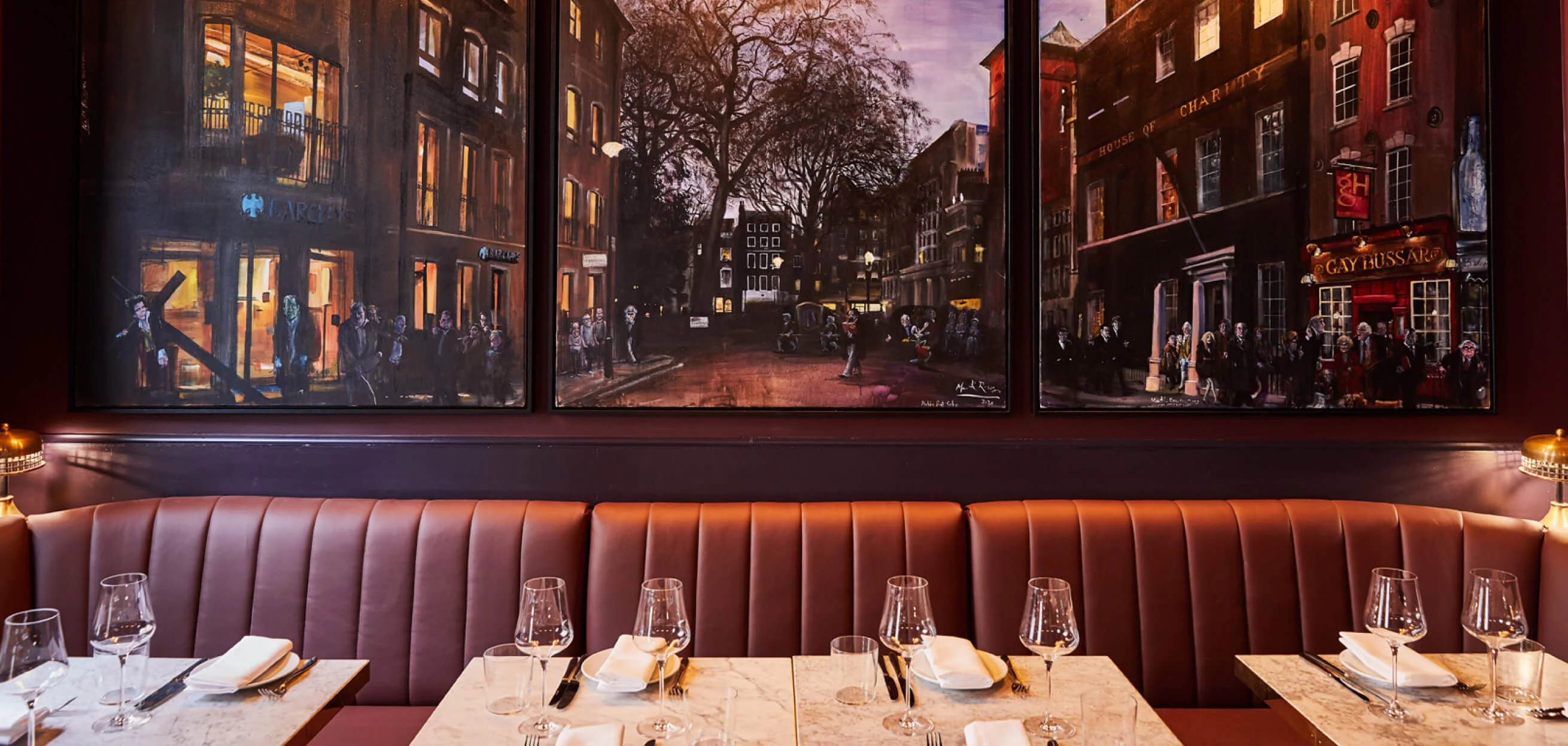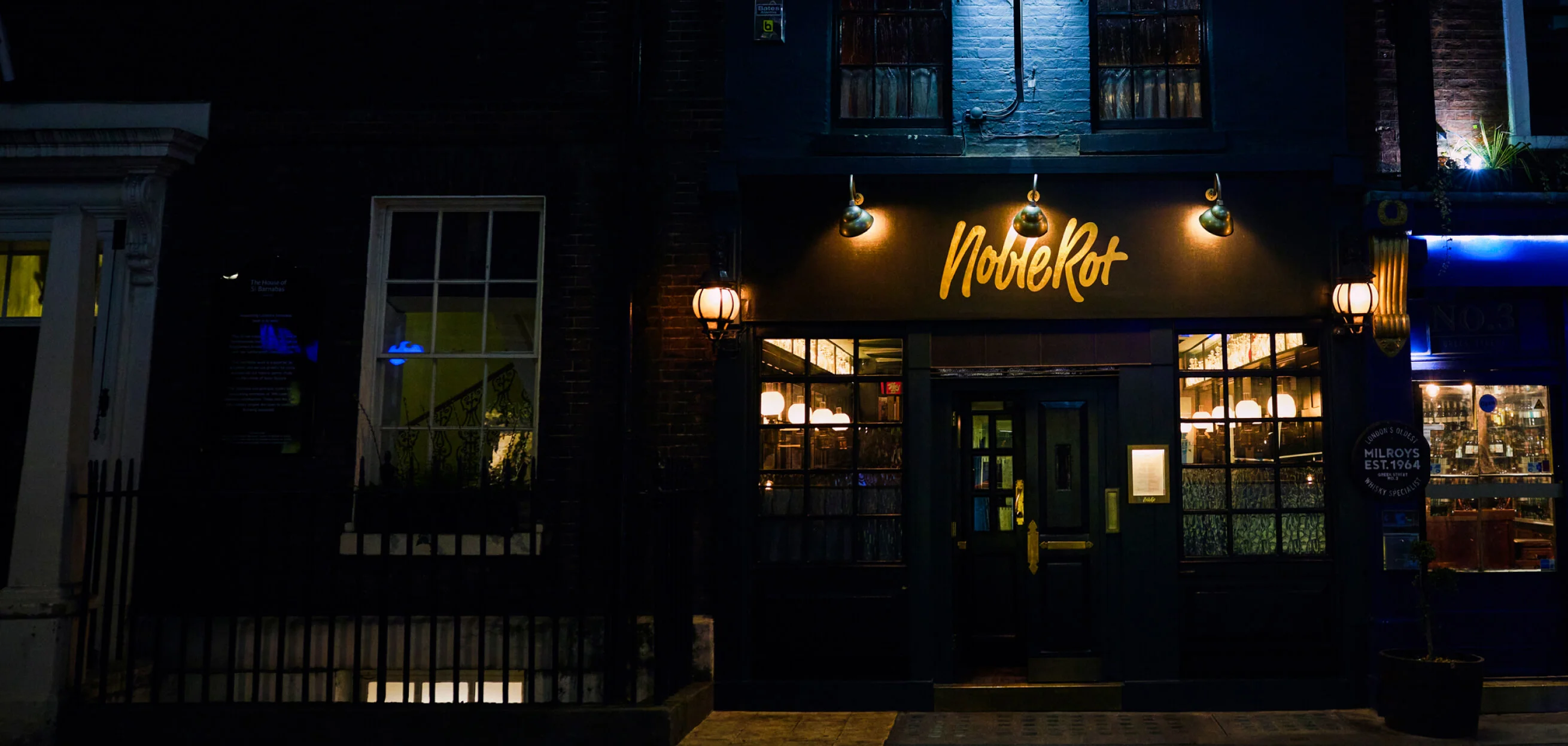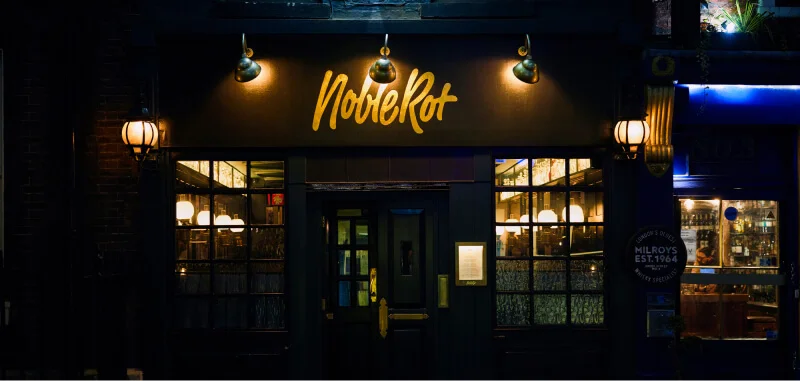 Noble Rot Soho
2 Greek Street, London W1D 4NB
Opening hours
Monday - Saturday
12pm - 2:30pm, 5pm - 9:30pm
Set Lunch Menu available from 12-2:30pm everyday.
Reservations taken for lunch and dinner Monday to Saturday.
Please note that the largest table in our main dining rooms will seat a maximum of 6 people. We can seat up to 10 in our Private dining room.
Christmas & New Year Opening Hours
Please kindly note we're open on Sunday 31st December for lunch and dinner.
Closed: 24th, 25th and 26th December.
Open: 27th, 28th, 29th, 30th and 31st December with our usual opening hours.
Closed: Monday 1st and Tuesday 2nd January 2024.
Normal opening hours resume on 3rd January 2024.
Restaurant gift vouchers

for the Rotter in your life. Redeemable at all our restaurants.
Shop Vouchers
About the restaurant
Noble Rot Soho is set in the former site of the Gay Hussar on Greek St, once notorious as the lair of many left-wing politicians. British Prime Ministers Clement Atlee, Gordon Brown and Tony Blair have all dined here, and the latter's Director of Communications, Alastair Campbell, was even rumoured to have bugged the ground floor dining room for intelligence.
Today the building's gorgeous period features have been preserved and renovated, and Martin Rowson, the Guardian's acerbic political cartoonist, has painted triptychs celebrating the restaurant's past and present customers in all their louche glory.
Noble Rot Soho's menu is overseen by Head Chef Alex Jackson (ex-Sardine restaurant) and executive chef Stephen Harris. It includes subtle references to The Gay Hussar's past and the most life-enhancing roast chicken with morels and vin jaune sauce to be found this side of France's Jura.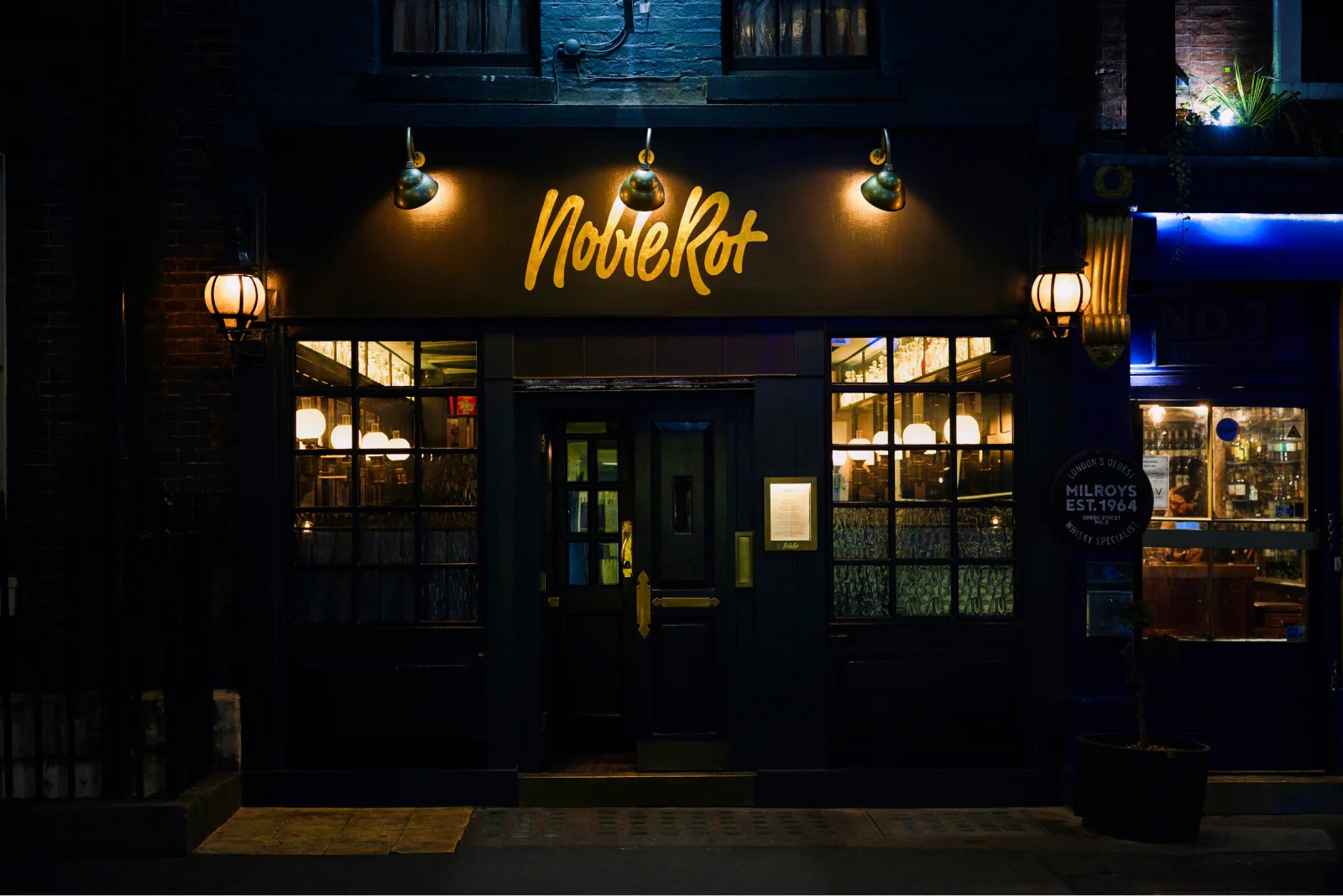 Noble Rot Soho
Private dining room
Noble Rot Soho's private dining room is on the second floor of our Greek St townhouse, and has been the historic setting of many Labour party strategy meetings and clandestine trysts over the years.
The room accommodates up to ten rotters (we offer a la carte dining for up to six, and a reduced a la carte menu for seven to ten). There are two sittings per day: lunch from 12pm until 5pm, and dinner from 6pm until 11pm.
Reservations for both lunch and dinner have a minimum spend of £500* excluding discretionary service charge. Prepayment of the minimum spend is required to make a private dining room reservation for dinner. All bookings have a two week cancellation term, after which a cancellation fee equal to the minimum spend
Reservations & availability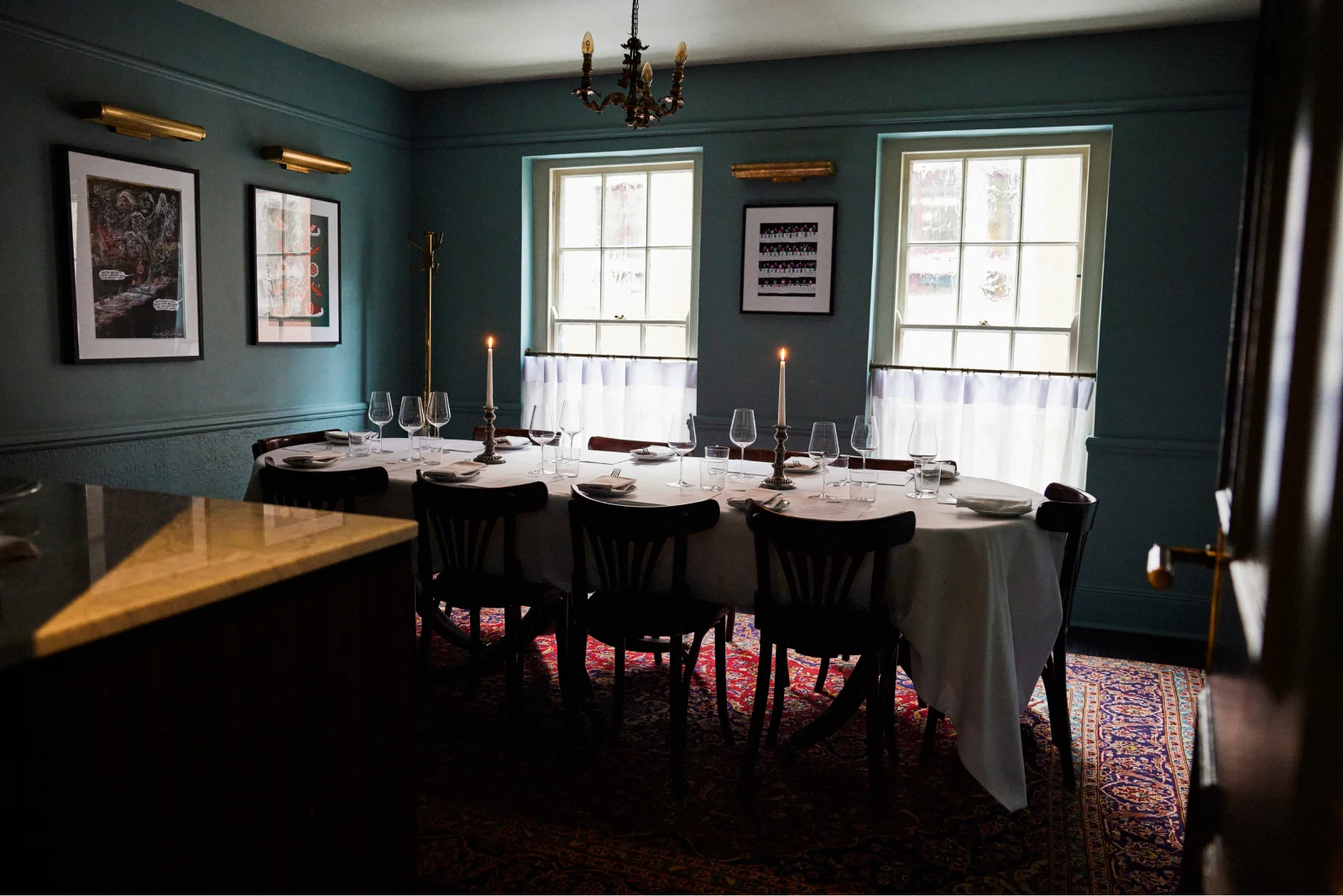 Please note that we take all bookings through the link above. Availability of the room is subject to change. Upon booking, one of our team will be available to confirm the receipt of your reservation and discuss any personal requests. Should you have any other queries please contact us at sohoprivatedining@noblerot.co.uk.
*From 1st to 24th December all private dining room reservations will have a minimum spend of £1000.
"Put simply, this place is a keeper. Everything from the food, to the atmosphere, to the cartoons in the toilets is spot on. Noble Rot calls itself a wine bar and restaurant but it feels more like a public member's club, if there is such a thing."
"When I say that the new Noble Rot is heavenly, it is not poetic frippery; this is more or less what the big dining room in the sky is for me."
"Put simply, this place is a keeper. Everything from the food, to the atmosphere, to the cartoons in the toilets is spot on. Noble Rot calls itself a wine bar and restaurant but it feels more like a public member's club, if there is such a thing."
"When I say that the new Noble Rot is heavenly, it is not poetic frippery; this is more or less what the big dining room in the sky is for me."